If you're in the midst of a kitchen remodel, deciding what color cabinets to choose can be one of the most difficult decisions you have to make. After all, you want your cabinets to look good and complement each other. To help you out, we've put together this guide about how to pair cabinet colors with white tile floors. Read on for some inspiration!
White and Light Wood Cabinets
White tile floors are a great way to bring a clean, modern look into your kitchen. One of the best ways to compliment a white tile floor is by pairing it with white or light wood cabinets. This will create an airy, bright feel in your kitchen that will be sure to turn heads. The combination of light and bright colors will also make your kitchen feel larger and more spacious than it actually is, giving it an even more modern feel.
Dark Wood Cabinets
If you're looking for something a little more dramatic, dark wood cabinets are the perfect choice for a white tile floor. Dark wood creates an elegant contrast against the light color of the tile floor that gives off an upscale vibe while still remaining classic and timeless. Dark wood can also be used as an accent piece; try pairing it with lighter colored cabinets for a subtle yet eye-catching effect that will elevate your kitchen's aesthetic appeal.
Mixed Woods
For those who like to mix things up, why not pair both dark and light woods together? This combination creates visual interest in your kitchen without being too overwhelming or over-the-top. You can also mix different finishes—such as matte and glossy—to add even more texture into the mix. This way, you'll end up with a unique look that still feels cohesive overall.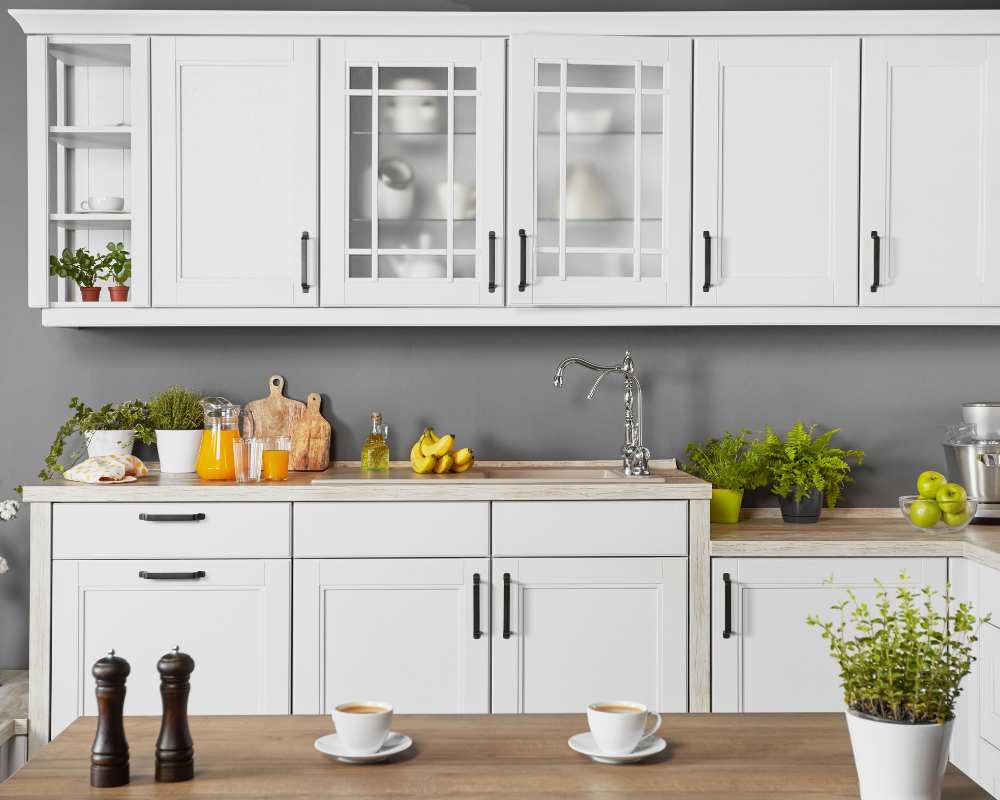 Consider Your Walls and Paint Preferences
It's important to keep in mind that you'll also want to coordinate with the rest of your kitchen, from the walls and back-splash to the counter tops and appliances. It may be helpful to get several paint samples to compare against your cabinets and tiles.
Cool Colors: If you're looking to create a sleek, modern look in your space then cool colors like blues and grays are the way to go. A light gray paired with white floors creates a calming atmosphere that is perfect for dining rooms and kitchens alike. Or if you want something with more energy, go for a bold blue or green hue that will add vibrancy to your space without taking away from the natural beauty of your white floors.
Warm Colors: Are you looking to create an inviting and cozy atmosphere? Then warm colors such as yellows, oranges, and reds are the way to go! Try pairing yellow walls with white floors for an eye-catching look that won't overpower the room. Or use oranges and reds for an energizing effect that will help brighten up even the darkest of spaces.
Neutrals & Earth Tones: If you're not sure which color palette is right for you but still want to make sure your walls coordinate well with your white flooring, then neutrals or earth tones are always a safe bet. Tan or beige walls will provide contrast without being too overpowering while also blending seamlessly into any style of home decor. And if you want something more unique then try adding hints of browns, taupes, or even greens into your walls for a subtle yet sophisticated look.
When choosing what color cabinets go with white tile floors, think about what type of vibe you want for your kitchen remodel project—whether it's modern and airy or dramatic and luxurious—and then choose accordingly from there! From white and light wood to dark wood or mixed woods, there are plenty of options available that will ensure your space looks stylish and tasteful while still feeling personalised at the same time! Good luck!