Wood flooring is a globally traded commodity that includes components such as laminate, parquet, and engineered wood. The housing and industrial sectors rely on this industry for structural and aesthetic applications. It also offers other related home decor items. Since the 16th century, wooden floors have been standard floors for most homes for generations to come, and today, this business is revolutionized by technology and research. Let's dig into some interesting wood flooring industry statistics to fuel your research.
What Is The Wood Flooring Industry?
The wood flooring industry is larger than any other type of hardwood floor production. It includes solid and engineered types as well as bamboo, cork, and other materials. The industry includes manufacturers such as Lowe's and Home Depot, distributors like Menard's and Builders, installers, contractors—and of course homeowners.s.
Wood flooring market value is estimated at $47.5 billion in 2021.
Source: Transparency Market Research
Employment Associated With The Wood Flooring Industry
Wood flooring manufacturing is one of the major industries in the world. It provides employment opportunities to many skilled and unskilled people.
The wood flooring manufacturing industry employs the wood floor finishing, wood floor distributors, wood furniture manufacturing, packaging, and box printing industries. This industry directly plays a key role in strengthening the economy.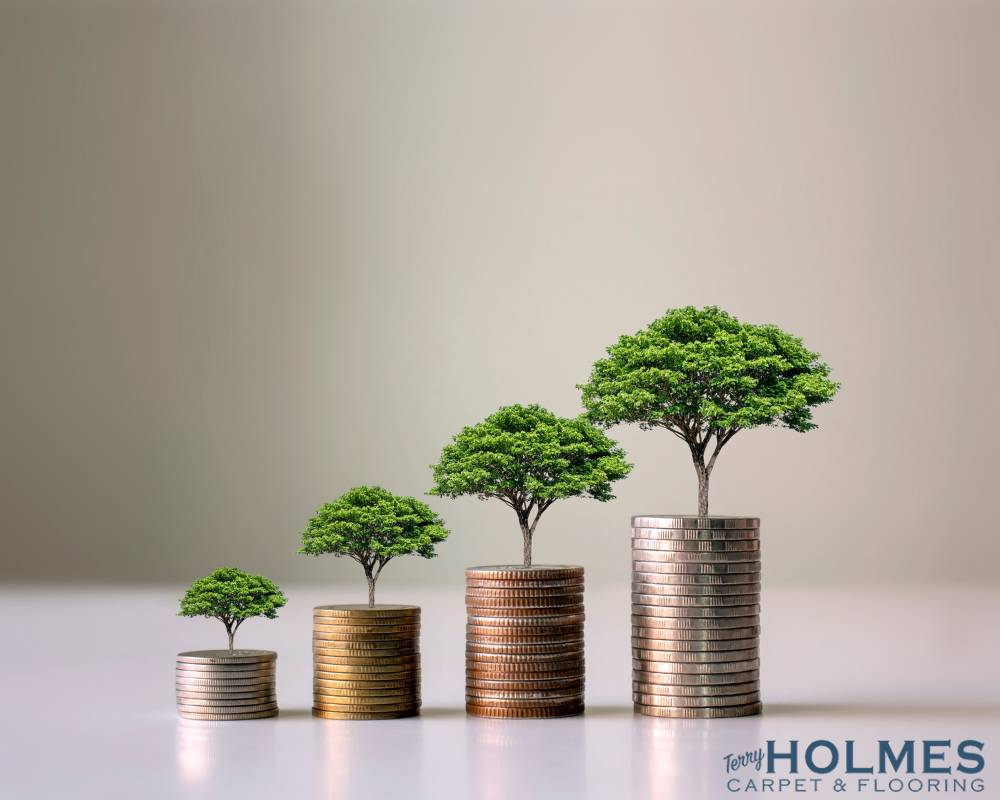 Interesting Statistics
The wood flooring industry has so many statistics and facts. We will try to figure out the most important ones as we go.
The Global Wood Flooring Market Is Expected To Be Worth $55.8 Billion By 2026
The global wood flooring market is growing due to factors such as:
Increasing population

Rapid urbanization
It results in an increased demand for luxury products and services. The increasing popularity of wooden flooring among consumers is due to its aesthetic appeal and the availability of various types of wood flooring products. They are inexpensive and environmentally friendly.
The global wood flooring market is expected to reach $55.8 billion by 2026. The growth of this market is driven by increasing demand for wood as an alternative to other construction materials such as concrete, steel, and aluminum in commercial buildings.
Source: Reportlinker
The Wood Flooring Market In The U.S. Was Recorded As Worth US$6.5 Billion In 2021
The wood flooring industry has been witnessing an upsurge over the past few years, owing to its increasing popularity among consumers and the rise in demand for eco-friendly products.
The U.S. is a major market for wood flooring, accounting for 14.55% of the global market in 2021. The country's total demand is estimated at US$6.5 billion in 2021.
Demand for wood flooring is increasing day by day. The unique aesthetic appeal and versatility make it suitable for room interiors, including living rooms, bedrooms, bathrooms, kitchens, and other commercial spaces such as offices and retail outlets.
By 2026, China Will Have A Market Size Of US$9.9 Billion
China is the largest producer of wood flooring in the world. The country is also one of the largest markets for wood flooring. In the global industry, China will account for US$9.9 billion by 2026.
For its high quality and competitive pricing, Chinese wood flooring is popular in the international market.
The growing middle-class population, rising disposable income levels, and rapid urbanization are also contributing to the growth of this market.
U.S. Wood Flooring Manufacturing Market Size And Growth Rate 2022
The U.S. Wood Flooring Manufacturing Industry includes companies that manufacture wood flooring products like hardwood, bamboo, and cork. These products are sold directly to retailers, suppliers, and wholesalers. Here's a chart showing the last 10 years of data at the time of writing: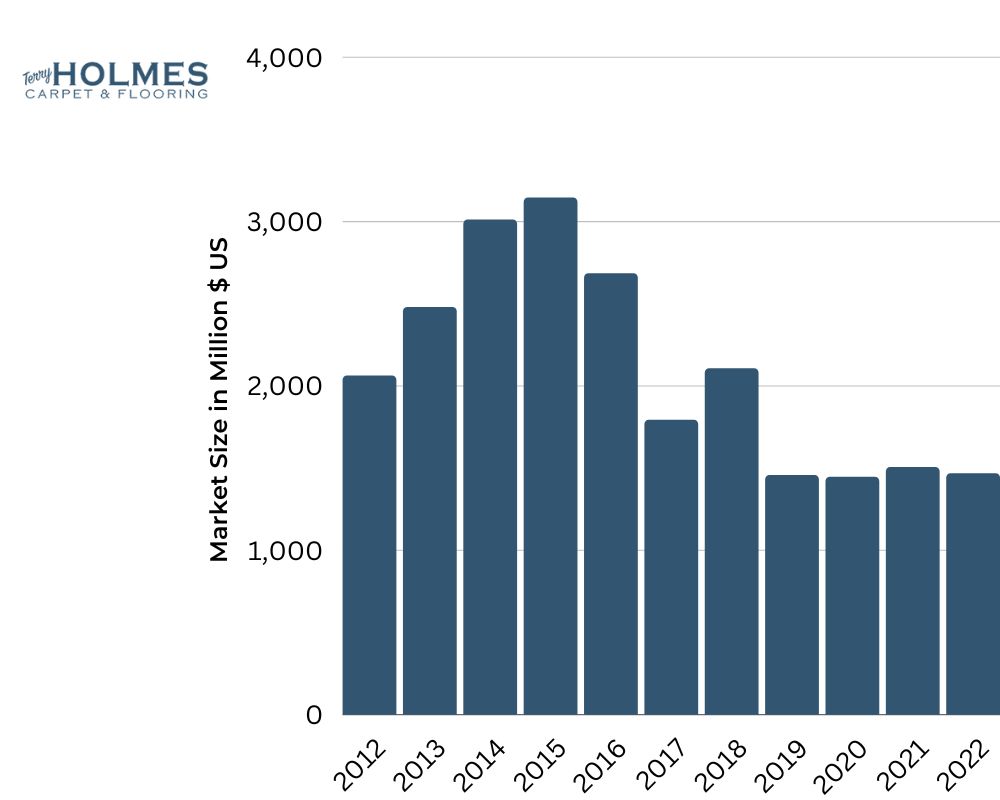 The wood Flooring Manufacturing industry is a $1.5bn market in 2022. The market size of the Wood Flooring Manufacturing industry is expected to decline -2.5% in 2022. Lockdowns and uncertainty are the key factors that hit the business.
Source: Ibis World
The Powerful Players Dominate The Market
The flooring industry is a highly competitive market. In terms of market share, few companies control a large percentage of the revenue.
However, with the advent of technological and product innovation, smaller companies can increase their market share.
Here is a list of some of the major players in the flooring industry:
Mohawk Industries 

The Armstrong Flooring, Inc.

Home Legend, LLC

Mannington Mills, Inc.

Somersett Hardwood Flooring
Source: Mordor Intelligence
Pandemic And Lockdown Effects On The Wood Flooring Industry
The COVID-19 outbreak triggered a massive decline in the hardwood flooring manufacturing market in 2020. With more than four years of disruption in place, there are concerns about whether or not demand will ever return to pre-outbreak levels. Some industry experts predicted that it could take up to ten years for the demand to recover due to long-term effects on consumer spending habits and preferences.
According to a report by the American Loggers Council (ALC), it was estimated that between January and July 2020, the failure to deliver 21.4 million tons of raw material caused a loss of $1.83 billion in the industry.
Source: Unique Wood Floors 
Asia-Pacific: The Fastest-Growing Market For Hardwood Flooring
Asia-Pacific is currently the fastest-growing market in the hardwood flooring market. Wood flooring is in high demand due to urbanization. There is a growing trend toward this option, and more people are choosing it.
The most notable trend in housing is that people are increasingly interested in sustainable building solutions. In particular, they are looking for ways to protect the environment, and wood floors have emerged as an increasingly popular option for homeowners who want to make their homes more eco-friendly.
Source: Mordor Intelligence
Conclusion
The wood flooring manufacturing industry is a vital player in the global economy. It has changed the way people used to decorate their homes. The demand for wooden flooring is increasing day by day, which has increased revenue and profits. This industry provides job opportunities to many skilled and unskilled workers who contribute towards strengthening the economy.
As you can see, there is a lot going on in the wood flooring industry. These statistics (mentioned above) show increasing competition from rivals and set back from lockdowns. The interesting fact is Wood floors are not going anywhere. They are here to stay. Trendy, Modern, and Stylish wood floors are always popular across the globe.
The future of the wood flooring industry is bright. It's not just about what it looks like, but also how well it performs. We will continue to see innovation in both materials and finishes.
Share your feedback, and comment below. We would love to hear your thoughts on the future of wood flooring and the industry.
References
Transparency Market Research
https://www.transparencymarketresearch.com/wood-flooring-market.html
https://www.globenewswire.com/en/search/organization/ReportLinker
 https://www.reportlinker.com/p0197227/?utm_source=GNW
 https://www.reportlinker.com/p0197227/?utm_source=GNW
https://www.ibisworld.com/industry-statistics/market-size/wood-flooring-manufacturing-united-states/
https://www.mordorintelligence.com/industry-reports/hardwood-flooring-market
https://www.uniquewoodfloor.com/blog/effects-of-covid-19-on-the-wood-flooring-industry/
https://www.mordorintelligence.com/industry-reports/hardwood-flooring-market