If you are looking for the perfect carpet color to go with your oak floors, the options can be overwhelming. Fortunately, there are several tips and tricks that can help make the decision-making process easier. Here's what you need to know when it comes to choosing a carpet color that complements your oak floors.
Understanding Undertones and Balance
The first step to picking out a great carpet color is understanding undertones. Every color has an undertone—whether it's blue, orange, yellow or red—and understanding the undertones of both your oak floors and the colors you're considering can help you achieve balance in your decor.
Choose a Neutral Shade of Carpet
When in doubt, choose neutral shades like tan, beige, or gray. Neutral shades work with almost any flooring material and will give your room an elegant, timeless look. You can also add pops of brighter colors throughout the room with furniture and accessories if you want to make a statement.
Create Contrast by Design
If you want to create contrast between your carpet and your oak floors, try choosing a deep navy blue or forest green carpet. These colors will create an interesting contrast without being too overpowering or distracting from the beauty of your oak floors. This is especially effective in larger rooms where more color variation helps define separate areas within one space, such as a living room and dining area combo.
Consider Patterns and Textures
Patterned carpets are great for making an impact in any room while still allowing the beauty of your oak floors to shine through. Patterns like stripes or geometric shapes create interest while still keeping things visually balanced by using similar tones throughout the pattern itself. Textured carpets are also great for creating depth without adding too much visual noise. In addition to being visually appealing, textured carpets are also great for hiding dirt and spills!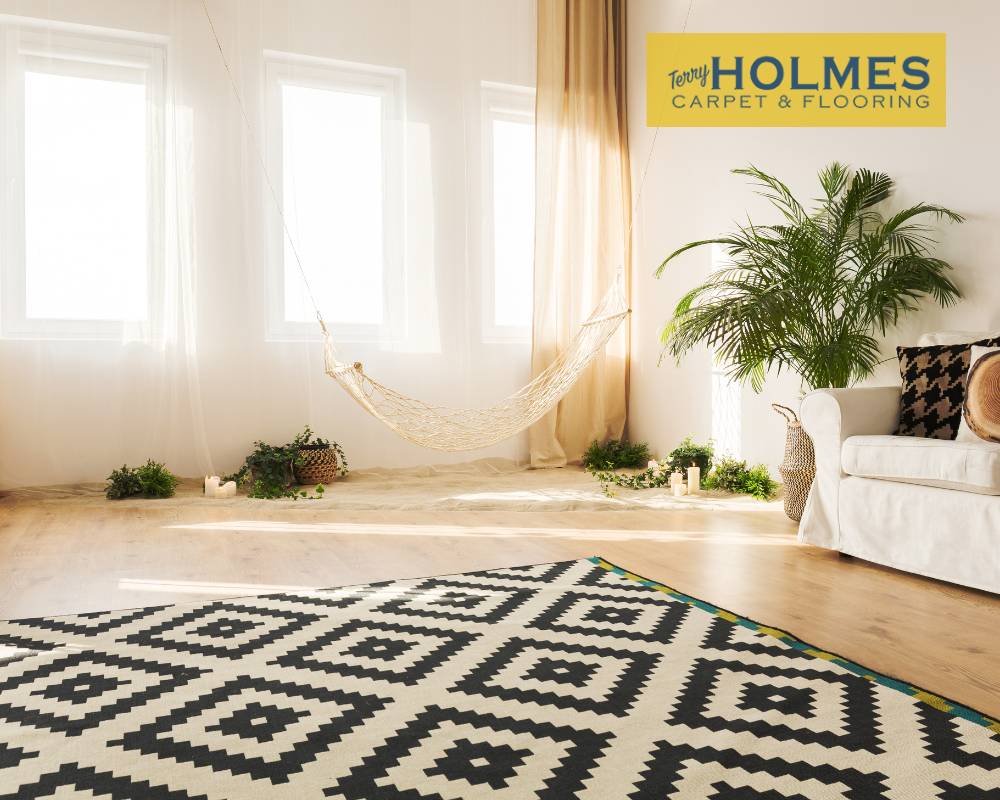 Specific Considerations for Dark Oak Floors
Dark Colors May Work Best
Darker colors are always a safe bet when pairing carpets with dark hardwood floors. Dark green, navy blue, charcoal gray, and black are all excellent choices that will go well with almost any type of furniture or decor. Although these colors don't necessarily create a dramatic contrast against the floor, they do help to create an overall sense of balance in the room. Plus, you won't have to worry about dirt or stains showing up as easily on darker colored carpets.
Neutrals such as Beige and Tan are an Option
If you want something more subtle than dark colors but still want to maintain some contrast between the floor and carpet, neutrals are your best bet. Beige and tan are excellent choices because they make it easy to add pops of color through furniture or accents in other areas of the room. Neutrals also tend to brighten up spaces while still maintaining a cozy atmosphere — perfect for creating an inviting environment in your home!
Go Bright and Bold or Go Home!
Bright colors can really add some life and personality into a room! If you have neutral-colored walls or furniture, adding a brightly-colored rug is an easy way to inject some color into the space without overwhelming it. Reds, yellows, oranges, purples—these bright hues will all look stunning against dark hardwood floors while still providing just enough contrast without clashing too much with other elements in the room.
Specific Considerations for Light Oak Floors
The first step in selecting the right carpet for your light hardwood floor is to decide if you want to make a statement or keep it subtle. If you're looking to make an impact, then opt for a bold hue like navy blue, emerald green, or burgundy. These colors will bring out the warmth of the hardwood while still making an eye-catching statement.
If you prefer something more subtle, then consider shades of gray or brown. Gray carpets will match almost any décor style while still keeping things neutral and allowing other design elements to take center stage. Alternatively, brown carpets will bring out the earthy tones of your wood flooring without overwhelming the room.
Remember It's Your Choice What You Like!
When it comes to choosing what color carpet goes with light hardwood floors, it's important to remember that the best option will depend on your personal style and preferences. Take some time to play around with different colors before making a decision—you can even buy sample swatches from most major retailers so you can see exactly how they will look in person before committing.
Choosing a color for your carpet that goes well with your oak floors doesn't have to be tricky. Whether you opt for neutral shades like tan or beige or something more bold like navy blue or forest green, there's sure to be something out there that fits your style perfectly! Consider patterns and textures too if you want something unique but still complementary—you won't regret it! With these tips in mind, finding the perfect carpet color should be easy peasy! Good luck!